overview
WMC Motorhome: Foreword
This report will discuss the progress made by the professional management team since its establishment at Wheat Motor Company (hereinafter WMC).
It became evident early in the implementation planning that the engineering activities, necessary to reinstate the original design of the GMC Motorhome, that spending priorities and the pre-production period were going to be lengthy.
This discussion will progress from the engineering necessary to accomplish a state-of-the-art motorhome, to acquistion of tooling, to preparation of the plant — including pollution control engineering — and, finally, to WMC's current financial status and future needs.
Last, a brief summary of the motorhome market is presented as an update to the appended 1998 WMC Business Plan.
President
Donald W. Wheat
Mr. Wheat is an entrepreneur who bought and sold GMC motorhomes nationally prior to acquiring the rights, patents and tooling for the GMC Motorhome. He owned and operated several small businesses. For 16 years he designed management information systems for such major corporations as U.S. Steel – Duluth and Blandin Corporation – Minnesota. He is currently President of Alaskan Campers, Inc. a truck camper manufacturer and is also President of Big Business, Inc. a business software company. – Chief Executive Officer
Vice President Operations
Gerald L. Utt *
Mr. Utt worked 28 years with General Motors. He was general superintendent of motorhome manufacturing. He was director of materials control for the truck and bus group. He was instrumental in the plant set up and production readiness of Wheat Motor Company (WMC). After leaving WMC he worked 10 years in management with Motor Coach Industries (MCI). He currently owns and operates an electrical supply business servicing oil field operations.
Officers of Wheat Motor Company[aka] GMC Motorhome
Vice President Engineering
James E. Peugh *
Mr. Peugh was employed as an industrial engineer with General Motors for 16 years. His GM experience includes supervision of the GMC Motorhome assembly and functioning as both a product engineer and an industrial engineer in the motorhome assembly and coach operations. He managed engineering functions of WMC. He currently owns and operates an internet service design business.
Vice President Material Control
Bryan D. Wheat
Mr. Wheat has been with Alaskan for10 years as the operations manager and also responsible for sales. Early in his career he worked seven years in sales with Wheat RV selling GMC Motorhomes. After leaving WMC in 1987 he worked with Musicland Corporation as a store manager and directed new store setup as a field manager. While with WMC he was involved in the day to day operation of plant set up.
Vice President Finance
Robert L. McComb
Mr. McComb is an accounting finance professional with over 40 years of experience in controller functions, including Securities and Exchange Commission reporting and systems and acquisitions analysis. He was an audit partner and manager with the accounting firm Deloitte Haskins & Sells. He was corporate controller for Pacific Power & Light. He is currently a private CPA.
Product Engineering
The product engineering for the rebirth of the General Motors motorhome is expensive, and costs can't be fully documented until a pilot line vehicle is available in September of 2000.
The major concern and priority is the front suspension and drivetrain: the engine, transmission and front drive axle. The suspension and drive train used by GM isn't available. In fact, it was the discontinuance of those components by GM in 1978 that led to GM's decision to discontinue production of the motorhome.
The interior of the motorhome requires engineering and design attention. While the interior of the GM motorhome led the industry in 1978, the competition has caught up and passed the earlier styling. A program to update the interior is under way.
Also, WMC is engineering its production process to comply with all regulatory agencies prior to the start of production. The scope of the engineering program is many times greter than envisioned during the early, technically naive days when the Business Plan was being developed.
By the end of November, WMC had spent $105,251, several times more than originally contemplated. The current estimate for the total product development program is $595,000.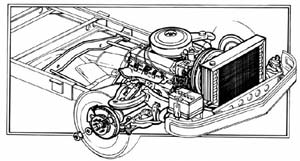 Engine and Front Suspension
The GMC motorhome was powered by an Oldsmobile engine driving an axle through a Turbohydramatic transmission which provided front-wheel-drive power. When GM decided to downsize the Eldorado and Toronado cars in 1979, these drive components became unavailable. The smaller, automotive, front-wheel-drive system used after 1979 was not appropriately engineered for use in the large motorhome.
Wheat Motor Co. must replace the drivetrain with currently available commercial units. Two designs for the transaxle as well as two comparable engines are being intensely analyzed in automotive design shops for WMC. Both systems will require appropriate frame and front suspension adaptations. Engineering design work has been done by Modern Engineering and Tri-Mode Engineering, both experienced Detroit automotive engineering companies.
A decision will be made by mid April on the optimum combination of engine, transmission and suspension. That decision will kick off an intensive design refinement and test program.

Instrument Panel
The tooling used to produce the GMC instrument panel wasn't available to Wheat Motor Co. Regardless, the panel and instrumentation, major focal points for the potential buyer, requires updating to contemporary standards in order to meet the competition.
The program to style and design a fresh appearance in the instrument panel for the WMC motorhome is moving ahead.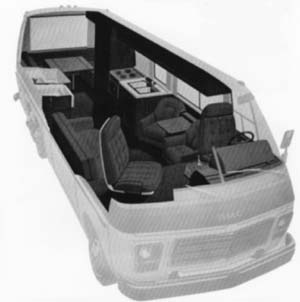 Interior
During its tenure as one of the Premiere Motorhomes ever built. the Zenith of design and engineering, the GMC Motorhome set design standards for the industry. These design standards have yet to be attained by current production motorhomes. Motorhome builders have responded to and met the GMC challenge in decor and appointments.
Developing a stylish, contemporary interior is a key element in selling the quality of Wheat motorhomes. WMC has a comprehensive program under way to capture the lead in its price class. Professional designers will assist in the selection of fashionable and functional fabrics and colors.
Major appliances, are being carefully shopped so we can offer the greatest value to our customers.
original
a very important moment in time