about
The story behind WMC Motorhomes
WMC Motorhome
Our name may be the newest in the industry, however, our motorhome is the product of the most extensive design, research and development effort ever put into a recreational vehicle — all by GMC.
The popularity of the GMC motorhome — among dealers and consumers — demanded that production of this unique vehicle continue. Wheat Motor Company is committed to fulfilling this demand for a motorhome of unsurpassed quality.
Original design and tooling developed for the GMC motorhome is being utilized along with a number of innovations to enhance the appearance, comfort and total motoring pleasure of the WMC Motorhome.
Innovation

Recreation

Revolution
Fifth Wheel: The Future.
Combine the superior excellence of a proven design with outstanding styling and you have a winner. If life is a game at which winning is a mark of success then in this lifetime and beyond, the new 5th Wheel by WMC represents such a winning design. This is a Fifth Wheel without compromise, that knows no equal. It's curved sides and sculptured front and rear slip through the fickled winds of travel with the ease of a soaring Eagle. And as has been oft repeated, "you can not soar like an Eagle if you surround yourself with Turkeys."
GMC, General Motors Corporation, spent five arduous years designing, testing and refining the body shell of the GMC Motorhome. WMC, Wheat Motor Company has taken that design which it acquired from GMC and refined it even further. Applying the latest techniques and materials WMC will introduce a Fifth Wheel trailer that will truly be a trip "back to the future".
Gone is the boxy design and archaic structure of the current available 5th Wheels. The WMC Fifth Wheel is a sleek all welded hat channel aircraft grade aluminum framework with bonded aluminum and fiberglass panels. Even the fiberglass panels are unique and foretell of the futuristic design, they are SMC, a Sheet Molded Compound fiberglass formed to a uniform thickness under heat and pressure so that the interior and exterior surfaces are glass smooth. These then are panels that will not delaminate or develop surface cracks.
The roof is curved aluminum that will not delaminate, crack, tear or deteriorate under the heat of the sun as does the current trendy PDM rubber.
Behind these panels of aluminum and fiberglass is a thick dense layer of sprayed in insulating urethane foam.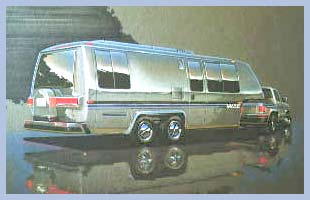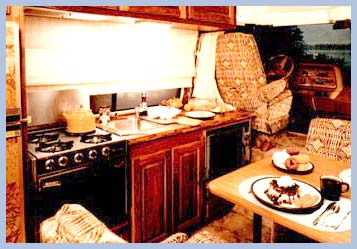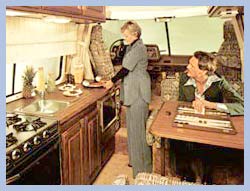 original
a very important moment in time